AppSec Jeopardy
This fun interactive activity will be a fun filled event where top security professionals will get a chance to sit on a panel and answer a wide ranging set of questions relating to the world of OWASP.
Unanswered questions will be presented to the audience, giving everyone a chance to participate and have fun. Questions and answers will be also synchronized through twitter to add to the participation. Join us for a night of special guest appearances, prizes, fun and drinks.
Bring your squeeze balls!
Want to Participate?
We are offering 3 great ways to be a part of the action: submit a question online, become a contestant, or come participate in the audience at the main event!

Submit your question online Submit your question online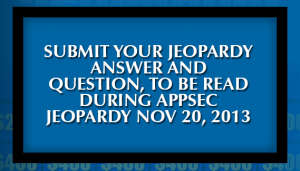 http://info.whitehatsec.com/AppSecJeopardy-OWASP.html
Submission closes Thursday, November 14 at 11:59pm PT
Sign up to be a Contestant
Add your name to our list of possible contestants in the Carnagie Room (5th Floor Marriott Marquis NYC) on Wednesday, November 20th from 8am to 1pm
Come see the main event!
AppSec Jeopardy will be held in the Belasco & Broadhurst Rooms (5th Floor Marriott Marquis NYC) on Wednesday, November 20th from 5:30pm-7:00pm
Add the session to your personal schedule on sched.org now!
Hosted by:
Jerry Hoff
Jerry Hoff is the VP of the Static Code Analysis Division at WhiteHat Security. In addition to WhiteHat, he is a co-founder and managing partner at Infrared Security. Jerry has worked at a number of fortune ten financial firms, along with years of hands-on security consulting, where he specialized in manual code review, web application penetration testing, and architecture reviews. Jerry also has years of development and teaching experience. He taught for over seven years at Washington University's CAIT program, and the microcomputer program at University of Missouri in St. Louis.
Jerry is the writer/producer of the popular OWASP Appsec Tutorial Series and the lead developer for the WebGoat.NET project
Sponsored by: